Hold your dream, Climb the Future
Climbing is an inborn talent of every child! JUST CLIMB cultivates the young generation and make sport climbing become their motivation and life-long interest.
Characteristics of Kid and Youth Climbing Course:
– With adequate care and guidance, every child could be a future climbing star.
– Just Climb has developed its own unique 8 climbing grading curriculum designed by professional and experienced climbers.
– The course goes from easy to difficult with a high degree of openness to guarantee that every young climber is on the right track to become an extraordinary climber!
Physical UP!
Develop gross and fine motor skills | Balance the growth of left and right brain | Strengthen flexibility and vestibular system
Mental UP!
Cultivate sense of achievement | Establish independent problem-solving ability and discipline
Technique UP!
Develop proficient climbing skills | Analyze climbing routes
Knowledge UP!
Practice climbing commands and belay skills | Familiarize with climbing equipment and knots application
TRY CLIMB
Love adventure? Enjoy challenges? Try climbing with us today.
A trial class allows children to explore different aspect of climbing.
Our team of coaches will help parents better understand the lesson arrangement and content, discovering each child's condition and climbing potential.
The instructor will explain the basic introductory> Climbing session> Parents debriefing
$280/class 50 minutes
Every kid is born to be a CLIMBER!
The curriculum of our kid course, which includes 8 judging levels, is specially composed and designed by our qualified climbing athlete Your children will be able to improve coordination, builds self-esteem and confidence, develop problem-solving skills, etc along the journey of climbing. As climbing is also a group activity which children can team sport which enhances their teamwork spirit.
Regular Course (San Po Kong)
$280/Lesson
Exam and certificate fee $180/time
Admission package $720/pc
Climbing shoes rental $40/time
Enjoy 5% off when you pay 13 lessons!
Regular Course(Paradise Mall)
$280/Lessons
Exam and certificate fee $180/time
Admission package $720/pc
Climbing shoes rental $40/time
Enjoy 5% off when you pay 13 lessons!
Admission package contents:
Bag

Just Climb members T-shirt?

Climbing shoes

Chalk bag

Chalk
The price of the admission package varies according to the climbing shoes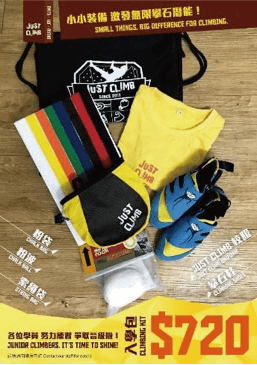 Be a professional climber!
JUST CLIMB elite team aims to develop and nurture new climbing star. Our coach will customize training programs according to the athlete's specific mental and physical conditions. Elite team members will receive special training and have the opportunity to represent JUST CLIMB to participate in future climbing competitions.
Training Programme Includes
JC Elite Team
$1800
Tailored-made training for specific technique enhancement
Mental training
Muscular strength and endurance training
In-depth study of IFSC rules
Competition strategies planning
Sharing from Hong Kong Climbing Team members
Every day is a good climbing day!
JUST CLIMB organizes festive events on special holidays, such as Easter, Christmas, and Summer. Children can utilize their time while spending a lively and energetic holiday! We'll keep you posted on Facebook and our official website.
詳情請密切留意FACEBOOK及網頁公佈。